Handy Brothers Music Company is the oldest family-owned and operated music publishing company.
Created in 1912 by WC Handy, we continue his legacy by educating today's younger generation to his musical genius.  We do this by:
Preserving the history of  W C Handy's Blues
Promote regional and national concerts, and other events, celebrating his music and its adaptability to new styles.
Commission new works to capture the creative imagination of a younger audience.
Spotlight new Blues Music talent
If you are interested in learning more or would like us to spotlight you as an up-and-coming Blues Musician, then fill out our contact form and we will get back to you.
---
Who Is WC Handy?
Musician, composer, conductor, music publisher, author, music anthologist, philanthropist, and an American patriot. William Christopher Handy is a founding member of the American Society of Composers, Authors, and Publishers (ASCAP) which is dedicated to protecting the intellectual rights of  each entity.
William Christopher Handy was one of the most influential American songwriters ever.  He did not create the blues genre; however, he introduced it to the Western world through iconic, beautiful, authentic blues compositions that will live forever. His 1912 publication of the "The Memphis Blues" is considered to be the first blues song and the inspiration behind the foxtrot dance step.
Through a succession of other masterpieces, including the most famous blues of all time, the "St. Louis Blues", he gave American its first musical identity, and ushered in the dawn of the jazz age. Other important works include the "St. Louis Blues March", the"Yellow Dog Blues", and the "Beale Street Blues" which are indelible contributions to the history of American music. Read more about the life of WC Handy.
---
Letter From The President (2009)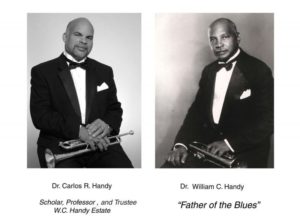 Comments by Carlos R. Handy, also known as "Charles" in honor of his granduncle, and brother of W.C. Handy, Charles Handy.
Handy Brothers Music Company Inc. has been on Broadway, in the Times Square general area, since 1918. It has had a long run on Broadway and has become the oldest Black company on Broadway. More importantly, as cited in a 1998 ASCAP review, it is "the oldest black-owned music publishing company in the world, and still family-owned and operated."
During his lifetime, W.C. Handy instilled a deep appreciation for music in all his children. Of those that were alive when I was a young man, my father (William C. Handy Jr.) was a percussionist in his father's orchestra during his teenage years. He was taught by Lionel Hampton at one point. My aunt Katherine can still be heard on early recordings singing her father's blues. My uncle Wyer was a pianist and choral arranger.
This musical tradition continued, somewhat, in their children's generation. Thus, I have a deep love for music and have played with various community symphonic bands at Columbia University in New York City, the Callanwolde Concert Band in Atlanta, Georgia, and presently, in the greater Houston area (i.e., the Woodlands Concert Band, the Lone Star Concert Band and the Cy-Fair Concert Band). Almost all of Handy's music has been, or is, adaptable to different musical genres. We hope to celebrate this at the upcoming convention of the Association of Concert Bands in Houston.
It is important to remember that my grandfather was a classical musician and trumpet player. My normal "day job" is that as Chair and Professor of Physics at Texas Southern University. Like my grandfather, I have always been good at mathematics, and this has guided me in all of my theoretical physics/mathematical physics studies at Columbia University (B.A. '72, M.A. '75, M.Ph. '76, Ph.D. '78).
The blues is America's gift from its former African slaves. Some of these landed on other shores in the Americas. My mother, Leonor, was from Matanzas, Cuba, the birth place of Afro-Cuban music. Needless to say, my sister, Irene, who graduated from the Music and Art High School, and I got the "music bug" from her too. We were born in Havana in 1950. Thus, I have an international interest in the blues and encourage everyone to express themselves through this website.
It is my hope to record some of my grandfather's songs in the near future, as well as some of my own. Stay tuned!